The Elephant Legend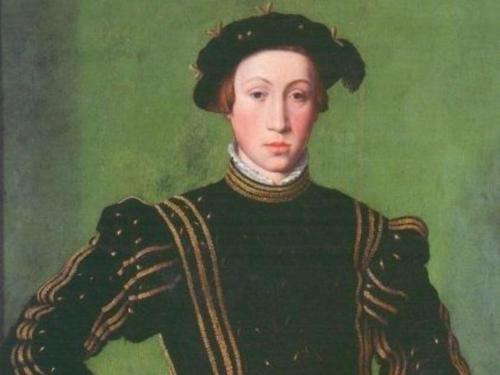 The elephant is an extraordinary animal, hardly ever seen in Europe until public zoos were created (in Vienna in 1779 or in London in 1828, for the oldest). Before that, with the legendary exception of Hannibal's war elephants that accompanied his campaign through the Alps, no one had ever seen an elephant on this side of the Mediterranean Sea.
Possessing such an exotic animal as an elephant, tiger, lion or leopard… was considered a token of wealth and power and was the sole privilege of the highest aristocracy.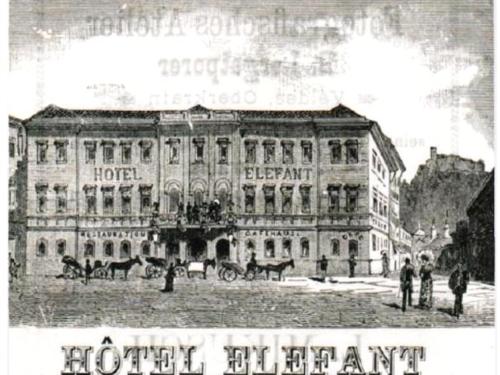 In 1552, Maximillian II was the Archduke of Austria and about to become the Emperor of the Holy Roman Empire. He was 25 years old and had recently married Mary of Spain.
On his way from Spain, he was bringing one of his wedding presents: an elephant called Suleiman. At that time, the Sultan Suleiman the Magnificent was Austria's most terrible enemy. Therefore, domesticating such a powerful animal under that name was a symbol of great power.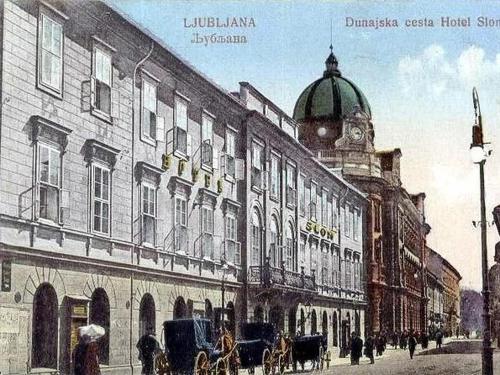 Maximilian stopped at the best inn in Ljubljana with his escort and the wonderful animal, which impressed the population tremendously. The hotel Slon was later built on the site of this inn. The memory of Suleiman the elephant was still very strong in the city, so the guesthouse, and later the hotel, were named Slon (the Slovenian word for elephant).
Slon hotel has its origin in the mid 19th Century (1856 and 1858 ) when a new hotel building was built.
The Hotel in that period was renowned for its baths, which were visited by numerous wealthy citizens of Ljubljana. The building survived for 80 years; it even survived the powerful 1895 earthquake.
But, in 1937, the construction of the new Hotel Slon began by its then owner Mr. Koritnik, in accordance with the modernist architecture fashion of the 1930s. Crowds of local people came to the construction site to observe the new hotel growing before their eyes. When completed, it was said to be the most beautiful and the most modern hotel in Ljubljana.
The Best Western Premier Hotel Slon has been a member of the Best Western hotel chain for over 20 years. Best Western is the world's largest hotel chain and connects over 4000 hotels contining 309,000 hotel rooms in 80 countries.