On May 20th, a
Gault & Millau
event took place at our hotel -
Knowledge Under the Toque
. It is the first in a series of training events where the
Gault & Millau
gastronomic guide and
Slovenian Tourist Board
raise awareness of the importance of the comprehensive experience of hospitality.
"Slovenia is becoming an important culinary destination, its cuisine and chefs have gained a lot of popularity, while the occupation of the waiter is somehow overlooked or has lost its importance. It is a creative, wonderful profession, which requires a lot of knowledge - about food, about wine, about etiquette, etc. - it requires a full personality that, together with a chef's artistry on a plate, creates an entire gastronomic experience. The latter is still not part of the general awareness, therefore we at Gault & Millau Slovenia would like to help and motivate the development of holistic knowledge through issuing our gastronomic guide following the criteria of a comprehensive experience. Knowledge Under the Toque is also a step in this direction," said Mira Šemić, director of Gault & Millau Slovenia.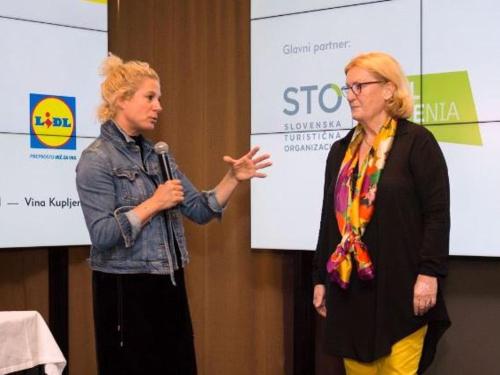 The event was attended by more than a hundred young chefs, waiters and students of Slovenian catering and culinary schools and faculties.
They were inspired by the practical workshops with chefs Tomaž Bevčič and Jure Tomič. By sharing her path "Through thorns to the stars", chef Ana Roš additionally provided a good measure of motivation to the young for creating one's own story of success.
Am 20. Mai fand in unserem Hotel die erste Gault & Millau- Bildungsveranstaltung "Wissen unter der Haube" statt, bei der über hundert junge Köche, Kellner und Studenten slowenischer Kochschulen die Gelegenheit hatten, die Kochkunst der größten slowenischen Meister zu lernen die Köchin Ana Roš am Ruder.